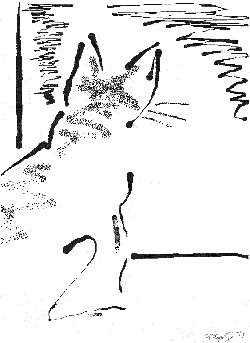 VERSE UPON BANK OF AMERICA HOLDING MY CHECKS AND ANGERING MY CAT


"These checks will be held for two weeks", they said,
"because they are very large and from New Jersey"

This much is true
But I am now home and
my cat is angry

He looks up through
his sloth with narrowed eyes
He querulously naiows his consternation

Tonight I will sleep the sleep of a good man
but my cat will not know rest
burring hair on his back, whiskers fanned
looking out on the rooftops with disdain and contempt
at spots where other cats have sat
outdoor cats
cats with no collars no names
cats that dig through dumpsters clawing towards the smell of day-old filets
skittering perhaps like a word whispered into a wind
on a moonless night in a dark alley
behind the bank that holds my checks.

Bank of America should not be in the business of angering cats.

---

NOTE: In July of 2005 I changed banks. My new back only holds checks for 5 days.