dilettante
Santarchy

By Summer Burkes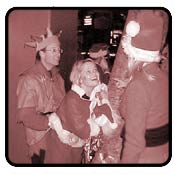 ON THE PRE -Chinatown end of Stockton Street on a recent Saturday, we ascend the cavernous and foul-smelling staircase to the Tunnel Top, colliding at the summit with three other future drunks clad in red and white. A ragtag group of Santa Clauses hangs over the bridge, greeting each tourist, shopper, and other arriving Santa on the street below with a raised fist and a single, resounding "Ho!" This year's San Francisco Santacon will reach peak performance tonight during the Santa Rampage, a traffic-stopping bar crawl through the city.
Inside the small Tunnel Top bar, a few addled normals stare suspiciously at a room packed with boisterous Santas, each with his or her own homemade or cheap-rental costume and personalized Santa name. The horde "hos" and grumbles and shouts and revels so fervently that it sounds more like a band of pirates than a gathering of Clauses. A put-upon-looking woman in a business suit, ostensibly in search of a quiet after-work drink, darkens the door, whirls around, and strides back out, aghast. A hundred perverts and miscreants dressed as every Western child's most popular beloved fantasy character, it seems, is too much for some people to take. "Santa Baby" blares from the jukebox, inspiring a raucous sing-along.
"Hmm ... nice, naughty, nice, naughty ..." Nasty Santa ponders, strolling and pointing at other Santas in the bar. The boy Santas, by the look of things, are much more comfortable in the requisite fake beard than the girl Santas, and one deprived Santa sits still as a helper rubs cotton balls on his stubble. "What, are you Five O'Clock Santa?" a patron jokes.
"I'm Santa!" notorious Santacon attendee Santa Santa shouts as a greeting, entering the bar in Christmas boxer shorts with a bag full of presents draped over his shoulder. "No, I'm Santa!" a dozen people shout back at him. Santa Santa digs into his bag and passes out gifts wrapped in pornographic paper. I receive a tiny green computer component and a Shift key. A chant arises: "Ho! Ho! Ho!"
The Santa assemblage crowds into the Tunnel Top for a group picture and then spills outside, where more Santas congregate and smoke. The grassroots gathering, a mostly leaderless event that has been called "Critical X-Mass," is about 150 to 200 strong. "You guys sleigh me! Get it? Sleigh?" someone probably named Take My Wife Santa jokes. One Santa, equipped with a homemade helmet-megaphone-hat-speaker-thing, drones creepily in a bored baritone through the gizmo's reverb and scratch: "Herecomessantaclausherecomessantaclausherecomessantaclaus ..." And we're off.
The Santas tally-ho, swarming along Powell Street, stopping traffic, negotiating tourists, frightening children, amusing adults, making more "ho" jokes, and shouting various and sundry Christmas-related phrases at random. We pose for another photo in front of the Chinatown gate, Megaphone Guy starts up "Silent Night," and 200 Santas sing in cacophonous unison, forgetting the words on purpose. A rebellious Santa faction opts to pogo in the street and sing "We Are the Mods." Santas with gifts hand them out to the honking drivers we block, who nevertheless smile and wave and cheer us on.
On Grant Street the Santas stop at Li Po to quench thirsts and alarm more bar patrons. We all crowd in, and a Santa with a homemade tuba fashioned from a bong and some rubber tubing serenades us from outside. Blaaaaaaargh. As Santas crush in to order drinks, my companion, Semi Claus, and I, stuck on the outskirts, receive free libations from a generous Claus with a bladder of Cosmopolitan.
A small stuffed bunny hits me in the head, and we realize that quite a few synthetic rabbits are airborne. Another chant arises: "Down with the Easter Bunny!" Semi Claus, visibly and fraudulently upset, announces to Santas at random that he'd like to stop the hate and appoint himself the official Bunny-Santa liaison. One Santa gets comfy on the couch, his black boots resting atop a crate of empty bottles. I take out my pad and make a list.
Ho puns overheard at the Santa Rampage: Somebody say ho ... When I say hey, you say ho ... What part of "ho" don't you understand? ... Can I get a ho? Can I get a motherfuckin' ho? (Boogie Down Productions) ... Hey! Ho! Ho Ho! Hey! Ho! Ho Ho! (Ramones) ... Who let the Santas out? Ho! Ho! (Baha Men) ... Hell, no! We won't ho! ... Hey hey! Ho ho! Ho ho ho ho ho huh ho!
Outside Li Po (Li Ho?) some Santas sing the Batman-defacing version of "Jingle Bells." One cop, the only one shadowing us so far, converses jovially with a Santa across the street from the bar. We round up, chanting "ho," heading toward North Beach and pausing to applaud at the doors of the Fortune Cookie Company. The Fortune Cookie family, closing up shop for the night, grins sheepishly.
One sequined-and-leopard-skinned Santa calls for attention as we round a corner. "This is where the opium joints used to be!" he explains, generating another round of applause. "Hopium! Hopium!" we chant. Up on Chinatown's community playground, we pose for a group photo in front of a Christmas tree. Bystanding parents jump in the picture with kids as other parents snap from the periphery. Santas run around the tree counterclockwise, hoing loudly and in time. Homeless people in encampments get up and skip around, smiling. Santas overtake the playground.
On the way to the Grassland Lounge – "where good friends and girls meet," the famous sign points out – we experiment vocally with all the different ways to "ho," and a tourist bus honks and waves at us and people de-board to pose for photos. Inside the also-heretofore-deserted-and-now-overrun watering hole, Semi Claus dashes for the bar and lands on the front line. He comes back with drinks and a wicked smile: "This place is always dead. Those bartenders looked scared," he says, imitating the expression of panic on their faces. Buttkiss the Brown-Nosed Reindeer asks a tableful of Santas if they'd like to sing his theme song, and they happily join in. A man talks quietly on his cell phone at the pinball machine, marveling at the scene before him. "Santa news!" one Santa says, holding up a Chinese newspaper. More chanting ensues. "It's good to be a Kringle," Naughty Santa says after one particularly inspired ho-along.
And then I finally come up with a Santa pun:
You had me at "ho."
Thankyouverymuch. Ahem.
Moving on to the Lusty Lady – "a fitting place for the leader of the Christmas world," someone points out – Santas crowd into the peepshow with quarters. The dancers comply at first, but by the time we get to the front of the line, the last one has walked offstage, and the nudie room is empty. "Naugh-ty! Naugh-ty! Naugh-ty!" we chant at the peepshow doors that close four seconds after we insert the quarter.
Down Broadway, Santas head for the next bar, and two or three enormous fire trucks blaze down the street and stop right in front of the throng. Uh-oh. A slight frisson of panic ripples through the Santa crowd until we realize they haven't come for us. We scatter out of the fire trucks' way, and someone puts up caution tape with smiley faces where the "caution" should be. We line up, diverting traffic for the nice firefighters, and pose behind the smiley tape for another photo.
On the way to Vesuvio, a group of Santas rocks a honking convertible. Santas crowd in again and order drinks, watching one of Vesuvio's bartenders get stressed. He bitches to his coworker and proposes kicking us out. "No way, I just made 15 bucks off one drink. I love these people!" she says. Another loud chant breaks out, and Crankytender winces. Upstairs, past two Santas exploring each other's tonsils, we take seats at a plateglass window, melodramatically holding our beers up to the runoff Santas still standing outside.
The Santa coterie makes its way out and to the legendary Specs. "God bless us, every one," an elf says in a small voice at Vesuvio's door. At Specs a cheer arises from the Santa herd as the announcement that Santas drink free passes back. Alas, it's not true. Nevertheless, all female Santas are encouraged to hug the bartender. An elf and a Santa hump by a tree while other Santas pull down a fire escape to scale it, then think better of the plan and pose for a photo instead.
Further down Grant Street at the Savoy Tivoli, the door lady claps and jumps up and down at the sight of the now wobbly and even louder Santa parade. One well-lubricated Santa dances erratically for the patrons inside the bar, then licks the window to the street. Outside, Santas mingle and jingle, and the same two Santas are still exploring each other's tonsils on the hood of a car.
After a time the Santa Rampage collectively exits and ascends the steep incline to Coit Tower, trying along the way to snake into a rich-people party on the top floor of a swank apartment building next to the road. The richies seem to be waving us up, but it turns out they're just waving, so we chant "naughty" again. Chanting moves to singing as the phrase "you better watch out" is repeated 500 times, army-drill style, up the hill in the darkness. We pause to look at the gorgeous panoramic nighttime view of the city below. "Does anybody have an elevator?" Semi Claus jokes breathlessly.
Up at the top Santas startle a pack of partying teenagers, who pause in bombing the bass from their convertibles and smoking weed long enough to join the Santas in climbing and running around the statue. The giant moon stares down as the rich-kid bass rattles our teeth. Santas party with Santas in the cold bay air. Frozen, we stumble and run back down the hill to Gino and Carlo's, soaking in the warmth, waiting in line to pee, bellying up to the bar. And the santarchy continues into the anything-but-silent night