dilettante
Dangerous Santactivity

By Summer Burkes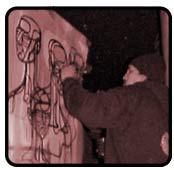 THURSDAY NIGHT A bevy of local thinkers, social terrorists, outdoors lovers, admitted oddballs, and curious e-mail-list recipients pack themselves into Miss P's Caffe Proust to listen to noted urban adventurer Sebastian Melmoth tell tall tales about tall bridges. As black-clad waiters negotiate shoved-together tables and bodies on the floor to deliver hearty continental food and drinks (plenty of drinks) to the attendees, Melmoth welcomes the crowd, announces a 10-minute start time, and plays a home video.
In the video a slightly younger Melmoth and friend scale to the top of the Brooklyn Bridge – at night, alone, in Santa suits. ("Santarday Night Fever!" my companion stage-whispers mirthfully, delivering the first of many Santa puns this weekend.) Melmoth adjusts his slide projector and narrates: he'd just gotten a cell phone that week, he says, and his lost-while-driving friend called him just as he reached the bridge's apex. "Where are you?" she said.
Melmoth, a lean, thin-mustached daredevil who looks like either a renegade professor or a polite assassin, explains how his love affair with climbing high started at age eight, when he'd "climb the swing set and slide down it and it felt really good." He ditched his hick town and moved to the city at a time when most San Franciscan freaks were removing the flowers from their hair and either succumbing to heroin or disco and promptly set his sights on our two roads out.
Melmoth, who's shimmied up bridges all over the Western world, started climbing the Golden Gate when he was 18. "I was a cocky fuckin' jerk," he says, telling of the time he misstepped and almost caught air. "I slowed down a lot after that." He's crawled up our Big Orange more than 100 times, and it took him a year to figure out how to get to the tippy-top. (Only one of the bridge's many shafts goes all the way up.) "There's a handful of people in this room who've been to the top," he says, eyeing the crowd, some of whom nod conspiratorially. Don't get any ideas, though: the Golden Gate, he says, hasn't been climbed in a long time because "the eco people" kept climbing it and hanging banners, so the city installed a multimillion dollar security system "with lasers and shit."
The slide projector clicks on, and a breathtaking photograph by Melmoth's friend Doug Wellman, snapped from the top of the Bay Bridge, affords us a view that only skycopters usually give. The 350-foot drop down to the roadway makes the audience a bit short of breath. "It's mandatory that you touch the red light if you go up on top of a bridge that has a red light," he explains casually, then shows a video excerpt to that effect. A woman at the table next to mine shakes her head: "It's kind of funny when you see friends doing things you don't really know they do."
Melmoth, a founding member of legendary San Francisco-based prankster organization the Suicide Club, then tells how the club got its name in 1977: after scaling the Golden Gate one night, he and a few like-minded friends descended to Earth by clinging to enormous, rotting-away rods under the road by the shore as 30- to 40-foot waves crashed over them and threatened to knock them seaward. They went home, got warm, waited for the adrenaline to lower, came to terms with their penchant for death-defying rebellion, and invented the title.
In the next gorgeous photo from atop the Golden Gate, a full moon shines out over a low-lying fog. One Suicide Club member, Melmoth says, requested in his will that he be cremated and that his ashes be cast to the wind from on top of the Golden Gate Bridge – during the day. When his time came, Melmoth and friends complied, even painting some of his ashes into the top of the bridge. The teary-eyed crowd gives a hearty round of applause.
Other cool things from the lecture: A photo from atop the 59th Street Bridge, where Melmoth and friends sang the song as they climbed it. Pictures from inside the shafts of the Verrazano Narrows Staten Island and Brooklyn. A picture of Melmoth riding a Welsh transporter bridge Dr. Strangelove style, the moors stretching out behind him – a climb in which not only did they not get arrested but a lonely bridge-watcher actually gave them the keys to the top. The Clifton Suspension Bridge that goes over Avon Gorge in England – the sister bridge to Golden Gate Bridge in terms of inviting suicide – where they saw a jumper who was retrieved before the fall and held down by police after a fight with his boyfriend. The Liongate Bridge in Vancouver, where a four-by-four-foot osprey nest blocked the doorway out. More Golden Gate photos, where birds sometimes threatened to knock him off the bridge by landing on his face, and where he came upon a bevy of sea lions who all started screaming at him at once. Throgs Neck bridge in New York, where, while sitting on top of an elevator shaft, Melmoth had a strange premonition and stood up quickly, narrowly avoiding a two-ton counterweight that would've sheared off his dangling legs. ("I almost passed out," he says. "I didn't say anything to anybody.") As the photos parade by, technical terms fly along with them and over some of our heads. "That makes me queasy just looking at the slide," my afraid-of-heights companion says, getting more and more green-faced as the evening continues.
The best stories, maybe coincidentally and maybe not, are of Golden Gate Bridge climbs: After sleeping all night in a tower to snap sunrise photos, he had a horrifically realistic dream that all 700 or so bridge suicide victims were climbing up the three-by-three-foot tower shaft, rotted Thriller style, and woke up in a sweat. Another time, during the day, though he thought he was invisible, a Golden Gate truck pulled up and he heard two words come up from a bullhorn: "Hey. Stupid." Fortunately, he knew the structure so well he got away, but only after hours and hours of strategizing. We get claustrophobic just listening to him. If everyone was so unafraid of death, the world would be a far more dangerous place.
Later that night, at the newly remodeled, Fisherman's Wharf-skirting Club Bas, the line stretches around the block for the much venerated and long-awaited Future Primitive Sound System beat-culture summit. In the main room (there are three), DJs Doc Fu and DJ Zeph mix Heavy D, Run-D.M.C., Treacherous Three, and other classic hip-hop together, spinning both live and larger than live on the turntable-cam writ large on a wall screen. "We're surrounded by boys," my companion says almost immediately, looking around at the devoted headz, who all face forward studiously and intently, not dancing, hypnotized like hip-hop Borgs. Artist Doze Green cuts into a canvas off to the side of the stage, daubing the first lines in his familiar and gorgeous urban-skeleton and multicolor-backdrop style. We ask if the painting's for sale, and he tells us it's already been bought for $3,500 by a private collector. Poor-kid city life, thankfully, sometimes translates into big bucks.
Upstairs, the bartender sheepishly apologizes for the high-dollar drinks. "Mission fun at Marina prices!" I joke. The boy-girl ratio upstairs is even, and everyone's got their hands up. "Although I feel that more important music is being made downstairs, it's more fun up here," my companion says. Cool Chris takes the decks, and the Hammond organ on a humid rare-groove track moves the crowd into sweaty submission.
In the corner a break-dancer executes heroic stunts as the others wait their turn. Strong as yoga masters and circus performers, the dancers all spin and flip in complicated trajectories while an incredibly long, dank, and chewy breakbeat massages our collective cortex. No notes, just the beat. For a good, long, funky while. This is S.F. beat culture – all kids need nowadays to be entertained are some talking drums. As Cool Chris throws in a sleigh-belled hip-hop version of "Jingle Bells," we snake through the dancehall room, where a live toaster sounds just like a record and some guy runs off with an acquaintance's joint. (Bad form!) We head back to the main floor and run ears first into another stinky beat when Faust and Shortee julienne Cheryl Lynn's "Got to Be Real." It smells like ecstatic B.O. in here. Everybody's moving now.
Tino Corp, up next, features a super-high-tech "video organ" player in their set – different clips hook up to different keys, and it plays like an organ. The video clips have sound, and as the Corp's jazzy vibraphoned beats get stoney, the clips' dialogue snippets become the rap. At the end of the set, a world premiere of Tino Corp's computer-animated video blows all minds that watch it, showing a Marilyn Manson-ish, "Express Yourself"-ish factory where an animatronic military guy plays a drum kit that says "Drum Kit" on it. It's amazing like Brazil and Bladerunner are amazing. "This is almost too much amazingness to listen to and see in one night," my companion says. "I can't take it."
"Mommy, what are all those Santas doing in front of the gun store?" jokes my companion, Semi Claus, on Saturday as a carload of tots slows down to crane their necks at us and about 10 other Santa-clad souls lounging in front of Guns and Things on Mission Street. For today's Santa Shootout, attendees have been instructed to dress in their Christmas finest and to bring guns and money for ammo. We buy 100 rounds of .45, and organizer Santan mills around, accommodating those who don't own guns, asking who wants to share. The other organizer, Vegas Santa, hands out MapQuest directions to the outdoor range in Petaluma, standing in front of his sick primer-black Coronet with foot-tall welded-on fins and spy hubcaps, smiling in a pair of rhinestone sunglasses he got from a guy named Jesus.
An hour outside the city, past rolling hills and dairy farms and miles of open space, we get lost and ask directions from a man with his hand up a cow's bum. (Seriously.) The Circle S Gun Range abuts a working farm; the bullets thud in hillsides by cow pastures. Rounds pop off, making big bangs and small bangs, and the crude wooden awning that houses the firing line also houses country folk and persons of questionable militia affiliation. The Santas trickle in, exiting cars and posing for photos, and the locals are both bemused and surprisingly chill.
The Santas split up and head to the rifle and pistol ranges, with the shooters popping off and the nonshooters receiving detailed instructions and flinching and marveling as they fire their first rounds. What appears to be gravel all over the ground is in fact an astounding array of grayed bullet casings. "Man, he's ready for war," Semi Claus says when we walk from rifles down to pistols again, surreptitiously pointing to a jarhead firing an A.K. as some other weird gargantuan assault rifle sits in an egg-crate hard case beside him.
Throughout the day the welcome warm sun beats down, and the Santas strip off outer layers of fur and continue to shoot. After all rounds have been fired and the sun starts downward, it's time to go. With our heads pounding, eyes watering, mouths tasting like metal, and clothes smelling like gunpowder, we pile back into our cars and push off homeward, anticipating and scheming for the exhaustively chaotic Santarchy that will ensue later that night.